The Best Creality 3D Printers of 2022
In the past few years, at-home 3D printing has matured quite a bit from something exclusively for tinkerers with a weekend to devote to assembly and calibration. In 2022, there are many affordable options that anyone can get set up and printing in a matter of hours. This has also caused an overwhelming number of home 3D printers on the market today, and it can be difficult to choose the best one for your specific needs. To help you decide, we've narrowed it down to our top picks for entry-level and all-around printers Creality offers in 2022.
Best Entry-Level Printer of 2022: Creality Ender 3 V2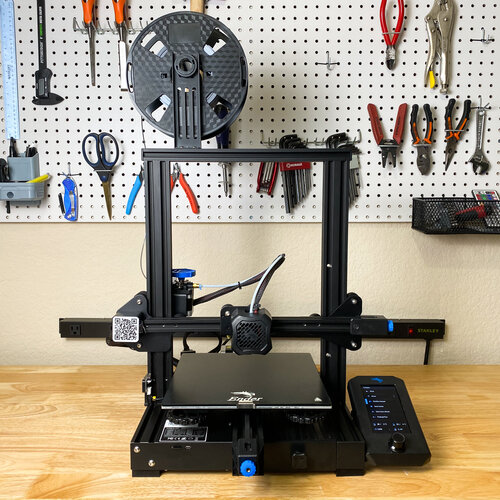 The Creality Ender 3 V2 stands out for its value and quality
An entry-level 3D printer is typically suited for hobbyists and beginners. People who are getting started with 3D printing might not have the expertise or patience for more complicated jobs. Unlike ten years ago, you are able to choose one from among dozens that have similar specs with wildly varying price points.
The Creality Ender 3 V2, the second version of the Creality Ender 3, is the best entry-level printer on the market as of 2020. It stands out for its value and quality.
This model rings in at less than Rs.50000. This makes it one of the most affordable models in its class without too many concessions in terms of quality.

It is a compact 3D printer, meaning it won't take up the entirety of your workspace with its bulk. With a print bed of 220 x 220 x 250 mm, it fits on any desktop, workbench, or table with room to spare.

The Creality Ender 3 V2 added an updated silent motherboard, allowing the machine to run lower than 50 decibels(dB) while printing. To quantify, normal speech hovers around 60 dB, while the hum of a refrigerator is about 40 dB.

The print bed is composed of a material called carborundum, or silicon carbide, a hard ceramic material with extremely high durability and resistance to heat.

The Creality Ender 3 V2 is ideal for makers who are interested in a lower cost 3D printer that still has many modern features included with more premium machines. Its low price point, and convenience features make it a great first 3D printer or as a supplement to an existing 3D printer collection.


Why Creality?

Before we dive into the features that differentiate 3D printers, it's worth asking why we decided to focus on Creality. The main reason is that Creality printers are known for their ease of use and overall quality.

The process of going from an unopened Creality printer to a setup that's ready to print is typically very short compared to other 3D printer brands. Most users report spending just an hour setting up a new printer and calibrating it. Better yet, Creality printers are built so that you don't have to get the adjustments absolutely perfect to produce good prints. That means that you can focus on bringing your designs to life as quickly as possible rather than wasting time on endless tweaks.

Another thing to like about Creality is that the company's printers are reliable. Creality 3D printers are trusted by professional print shops that run their machines 24/7. They rarely need to be taken offline for repairs, which means that you don't end up spending more money on your printer.

It's nice that Creality is such a major player in the 3D printing world. An ever-increasing number of designs can be printed using Creality machines. If you want to add more capabilities to your printer, Creality makes a wide variety of accessories and there are plenty of third-party components that are compatible with the company's equipment.

Features to consider before you buy a 3D printer

If you're new to the world of 3D printers, it can be hard to know what all the specs mean. To help you navigate the technical jargon, we'll identify the most important features of Creality 3D printers you need to know about and help you decide which one is right for you.

What do you want to print? Printer style

Perhaps the best place to start with choosing a Creality 3D printer is to figure out what style of printer you need. There are several different types that vary in capabilities and cost.

The most basic 3D printer style is a Fused Deposition Modeling (FDM) printer. Several of the Creality printers we reviewed, including the CR-10S and Ender 5 Pro, are FDM printers. These models are often favored by beginners because they are relatively affordable.

However, FDM printers do have some drawbacks. These printers operate by heating filament and extruding it into the desired shape. The problem is that when you create layers, the filament forms blocky lines as it is stacked on top of itself. So, you may need to spend a fair amount of time smoothing the exterior of your product with an FDM printer.